...Garden...
When we moved into our house in 1998, the outdoor space was a gloomy affair. Thick ivy hung down the walls, a dead geranium stood alone in one raised bed. It wasnt a selling feature of the house. The veranda was rotten too... all in all a very sorry state to be in.
Here is a basic plan to help visualise whats going on: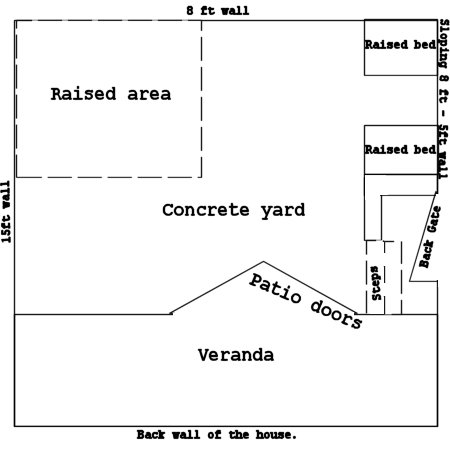 Photo gallery - The garden as it progressed..
| | | |
| --- | --- | --- |
| 1999 | | 1999 |
| 2000 | 2000 | 2000 |
| | 2000 | |
| 2001 | 2001 | 2001 |
| 2002 | 2002 | 2002 |
| 2002 | | 2002 |
| 2003 | | 2003 |
| | | |
| 2005 | | 2005 |
| | | |
| | | |
| | | |
| | | |
| | | |
| | | |
| | | |
| | | |
| | | |
| | | |
| | 2018 | |
| | 2019 | |
| 2020 | 2020 | 2020 |
| | | |
| | 2021 - Click for Panorama | |
| 2022 | 2022 | 2022 |
| 2022 | 2022 | 2022 |