...Art Other...
<< back
As well as being rather snap happy and enjoying painting, I also enjoy creating and making other arty things. I am an arty person, what can I say? ;) So here I will post up some pics of various projects I have undertaken, possibly with a little description too..and the date.. and stuff.
Back in April 2002, My Mum, brother and I went to the Jackfield Tile Museum for a tile workshop. It was my Xmas gift from my brother. You get 8 tiles, all the slip and glaze you want, and a very nice person called Jenny to help! A bit like exam results, you seem to wait forever to see what they turn out like, and this was mine: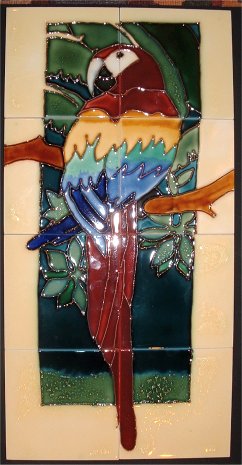 Unfortunately, cos I was a bit heavy handed with the glaze, one of my tiles got stuck and cracked as they got it out the kiln, but Jenny made me a new one to fit in its place.. and its hard to tell the difference now, except heres in somewhat neater!
Here is Jodie deciding whether she prefers Jenny's tile or mine: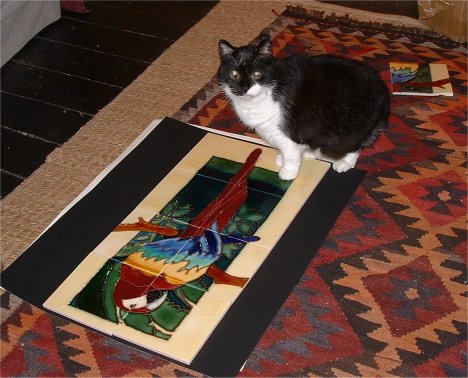 My partners sister in law, lives in Australia. As an Xmas gift idea I made her 2 nighties/v.large t-shirts. And customised them to make them a little more personal! :
| | | |
| --- | --- | --- |
| Front logo | Back of one T-shirt - "Christmas in Oz" | Back of other T-shirt - "Christmas in the UK" |
My Mum has a bit of a thing for Russian dolls. While I was housesitting for her I stole a very beautiful book about Russian Dolls and used some of the designs to inspire my own set! It was a very slow process, particularly the smallest doll. I also felt rather guilty for white washing out the original "ginger bread men" and starting again. I gave them to Mum for Xmas, but here are some photos before they went:
| | |
| --- | --- |
| Front View | Back View |
I think these were the first pieces of artwork I got paid for. My partners Mum asked me to paint four boxes as Xmas presents for little girls. I was given the girls names and a bit of info about what they liked and then painted up some plain IKEA wooden boxes.
| | | |
| --- | --- | --- |
| Top of all 4 boxes | Front of all 4 boxes | Back of all 4 boxes |
| Right hand side of all 4 boxes | Left hand side of all 4 boxes | Inside Box 1 |
| Inside Box 2 | Inside Box 3 | Inside Box 4 |
I got a beaten up ethnic-looking rocking horse from TKMAX the one day, and decided he could be beautiful with a bit of work. I painted him up in a traditional way, and then gave him to my partners mother to choose a customisation.. He is now currently back with me for a repaint, but hopefully I can post the "after" picture sometime soon.
***Update***
Its taken me long enough, but Stanley is now redecorated and ready!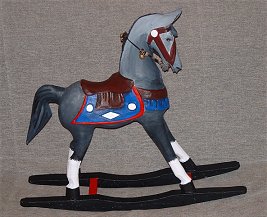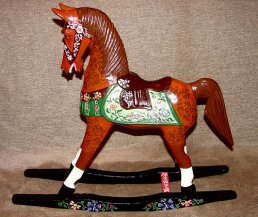 At a car boot ages ago I picked up Mini-Stan to paint for my Mother in Law. He was rather hideous and blue. After completing Stanley I thought I would make him a minature chum.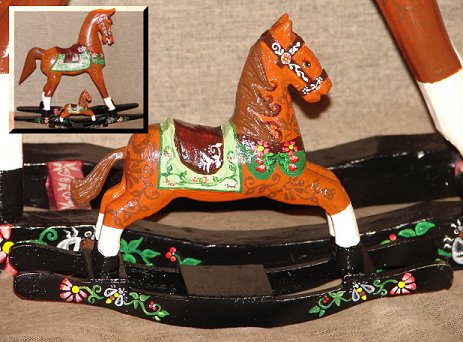 My brother recently bought a new home and in the front room was a fireplaced bedecked with rather flowery tiles. I dont know how we got round to it, but in the end my brother paid for me to go on another tile making course and in return I gave him the end product, 2 sets of tiles ( mirror images) to "go" with his new decor in his front room. In the end we agreed that lizards with no eyes would be easiest to live with, and kept to one colour for all elements, in this case green.
I took my camera this time so I can show you two other steps in the process. In this first photo you can see the terracotta coloured slip that you "pipe" your design in. ( The tiles are in a muddled order!) This when it dries ( only takes a few minutes) creates a well for you to put in the glaze.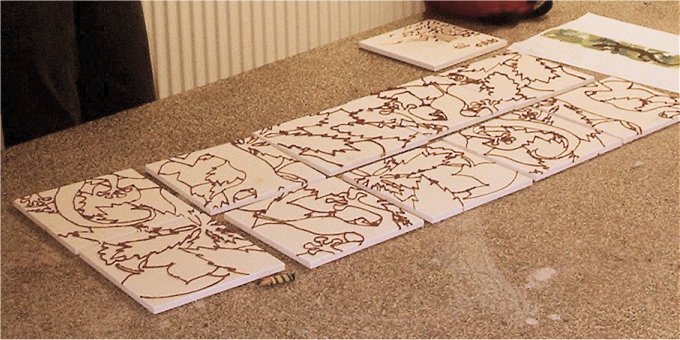 The next photos shows you how the tiles look when the glaze has been added, but before they are fired. Its an odd process adding the glazes when they are entirely different colours from the end result. On the left of the tiles is the "bulb applicato" that you can squeeze out the glaze from. Its also possible to use a brush to apply the glaze, but the result is a thinner colour.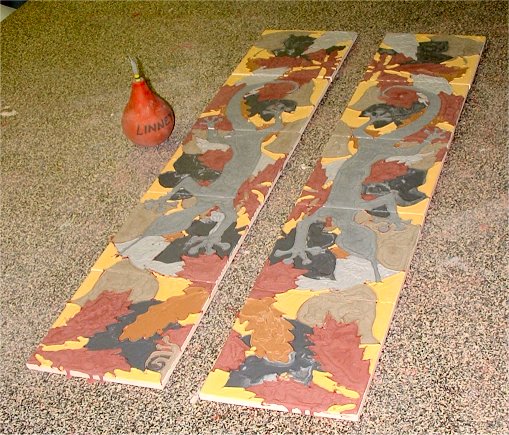 You have to wait quite a while to pick up the final tiles, and you never know how it will turn out til you take them out the box! This time none of the tiles stuck and I was amazed at how vivid the colours were.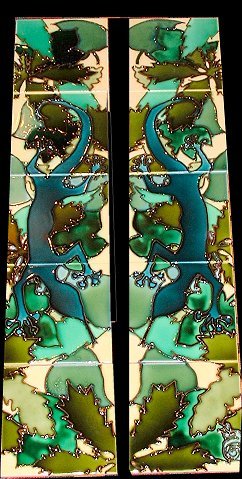 My brother has now fixed the tiles to his fireplace and I hope to get an image uploaded here to show how they looked at there intended destination!
Edit: Went to my brothers this week and here is a photo of the tiles now in his living room!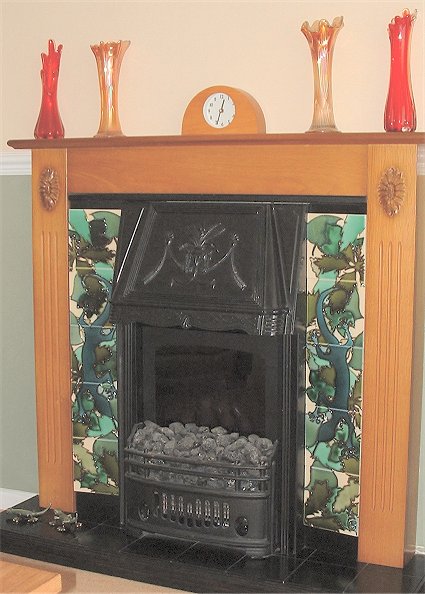 My partners cousin gave me some dough creations to paint...

...

...

...

...

A few times a year we make a special journey to The Christmas Shop in Lechlade on Thames. Last time we went with my partners cousin and she really liked a set of Russian dolls where as you took away a doll to reveal a smaller one they had also shed an item of clothes. Then at christmas 2006 I was given an Xmas card where a Santa Russian Doll was doing the same! I was able to use the cards as a guide and I gave them to my partners cousin for her birthday. I asked her to excuse the fact they were really for Xmas!
Front: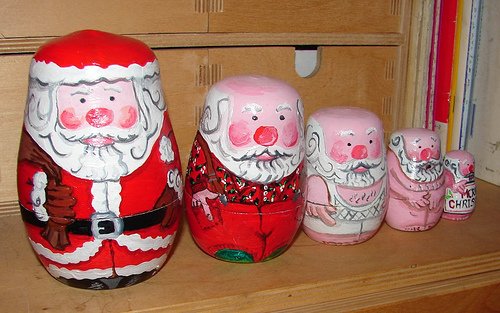 Back: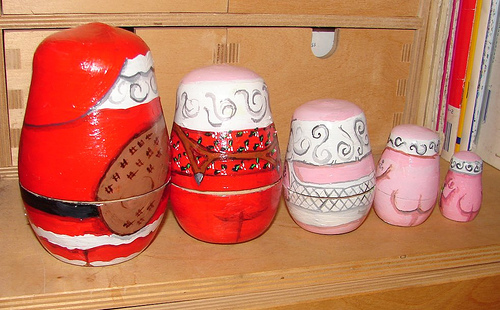 << back