...FISH...
<< Back
A while a go I set up a large glazed pot as a water garden and my mum got my 5 tiny fishies to inhabit it. Despite doing everything I thought was right, those 5 fishies were all gone in a few months. Floating... it put me right off keeping them, as clearly keeping a goldfish wasnt as easy as it seems. I decided this year ( 2004 ) to have another go but to research first. And after a long period of time I came up with the idea of using a "muck-bucket" ( in a similar way to how a half-barrel is used.)
The best fish resource out there for me has to be Koko's fish forum. The people are friendly, helpful and provided me with no end of help thru all my fish troubles. I recommend it!
So back to the story: I conditioned the water, bought a pump, made sure there was somewhere to hide, invested in a small submerged filter, planted it up, got test kits, left it to mature.. all things that I admit I never did the first time. So after a month or so it looked like this: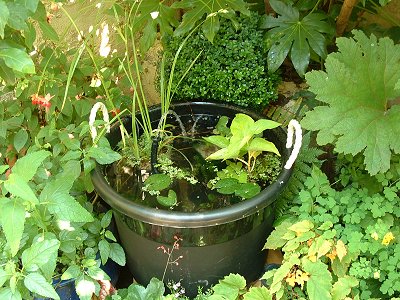 Once it was "aged" I made a small net to put over the top to keep cats and birds out. Then it was time to go to the Local Fish Shop ( LFS) to get some fish!
Thus arrived Perseus and Priscilla. Who seemed to settle in fine. However, next morning Priscilla appeared to have leapt out.... the net just hadnt been secure enough. :o( Percy was all miserable down the bottom of the pond..sulking. Managed to revisit the LFS and the plans for the net and got another fish. Cedric. No jumpers this time. Within a month they were coming to the surface to feed. The pond cycled pretty quickly and I was doing weekly water changes to keep the water quality good.
Percy and Cedric: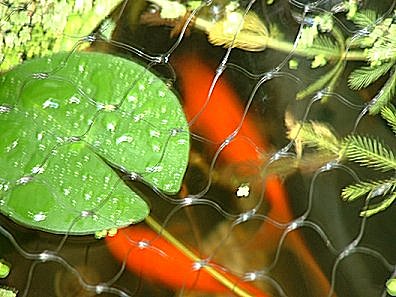 The pond worked well, two fish seemed plenty for the ecosystem it provided. They were healthy and getting "tamer" as time went on... I had originally intended to bring them and their pond into the veranda for Winter, but as luck would have it I was given a 12 gallon hex that I could use. At 2-3 inches long, it would make a fine temporary winter house for them.
Cedric and Percy in their new home: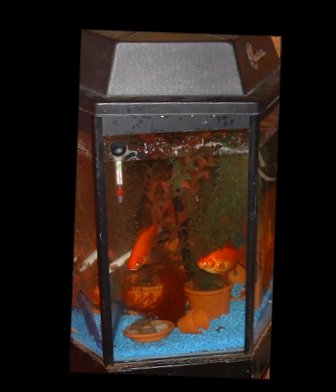 Its not the prettist of set-ups, mainly due to the pond pump and filter having to be transfered with them, but I am hopeful that Santa will bring me a new filter for Xmas! Percy and Cedric love the bubble stone, love expensive Hikari pellets, love to chase each other at frantic speed round the tank. They have grown almost 2 inches since coming indoor tho, so I dont think it will do for another year, they'll just be too big!
Later...
Once Cedric and Percy were safely installed, I started to get really into my fish, really wanted to have some indoors to look after! As if 2 werent enuf! When I went to the in-laws one weekend I got rather keen to adopt the fish they had there, and it wasnt long before they came home too! Once again the people on Koko's were a brilliant help, and thanks to them the move went smoothly and now "Fish" and "Boy" live in my kitchen!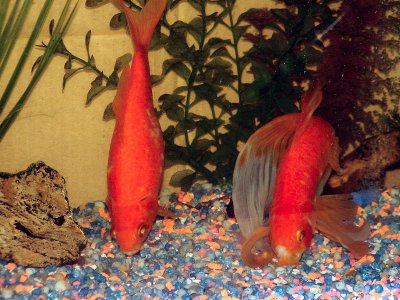 When they arrived they had a number of health issues, which 2/3 months later were mainly sorted out. Fish ( on the right) overcame his flukes and Boy ( on the left) seemed to pick up well. Both now most of the time, have their dorsal's raised and are greedy chaps! Took them a while to realise that Peas were good food, but now Fish can fit 8 in at once!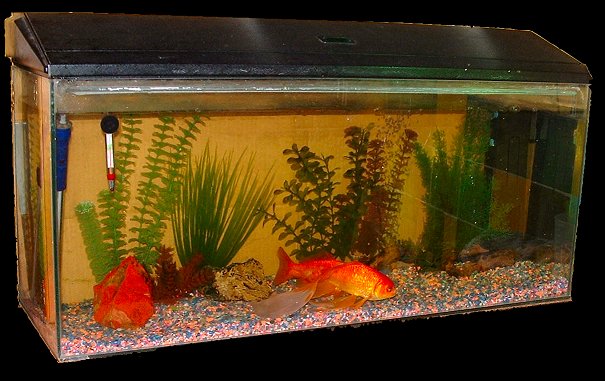 Update 2005.
For my birthday this year my partner has bought me a Juwel Rekord 120 aquarium for Percy and Cedric. Cedric is now 7 inches long and is far too big for the pond we used last year, or indeed the hexagonal aquarium we were using for over wintering them. I havent got much in the way of decor for the new aquarium, but by way of an update here is what it looks like today, the day after they went in.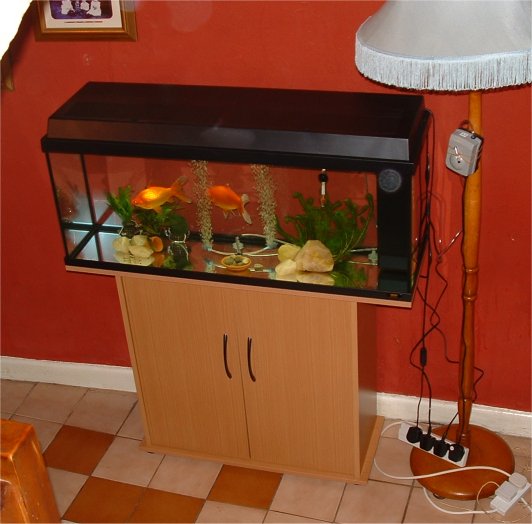 Update - March 07
I am now running two tanks. The one tank (in the picture directly above) still houses Percy and Cedric. The tank has alot less in it as they are much bigger.
Unfortunately both Fish and Boy passed away. Their old tank is now my new tropical tank. Today it holds 3 Corydoras Concolor ( Bob, Archie and Otto) they are breeding in the tank and laying eggs. There are also 7 pygmy Corys, 5 Black Widow tetra and one guppy ( I started with 5 a year ago, he is the remaining guppy)
This is a photo of the tank when they first went in.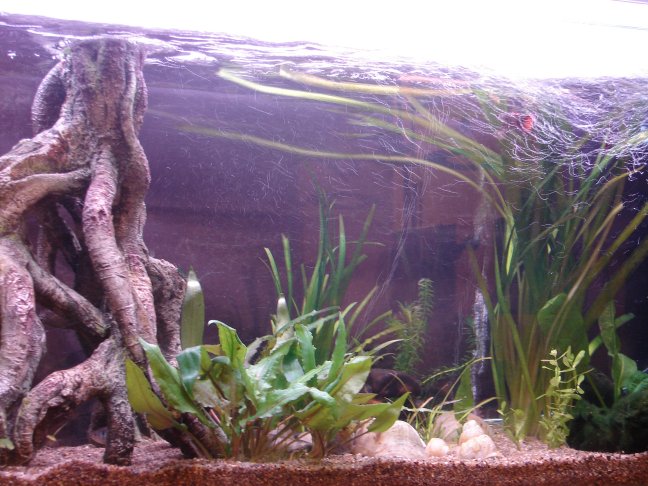 <Back